The Clinton Chamber of Commerce has approximately 150 members. The Chamber can help promote your business in many ways. If you would like to receive more information about the benefits of becoming a member, please contact Molly Marris, Executive Director at 315-853-1735 or info@clintonnychamber.org.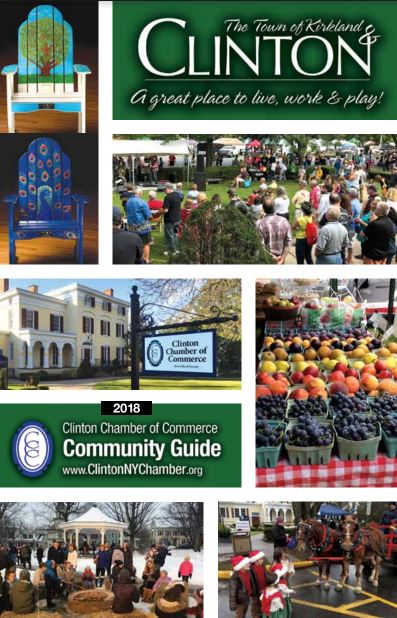 Community Guide – All Chamber members are listed in the community guide. Copies will be available at all Clinton Chamber of Commerce community events such as the Farmers Market, Art & Music Festival, Art Rocks and the Shoppers' Stroll & Holiday Parade. They will be distributed to Chamber members, establishments in the Village of Clinton and the Town of Kirkland, new families at the Clinton Central School district and the Oneida County Tourism Welcome Centers. In addition, the guide will be available to the Hamilton College community.
Electronic communication – One of the many benefits of the Clinton Chamber membership is our Constant Contact email communication capability. At your request, as a member, you're entitled to two FREE email event communications per year. This would be an email communication to the Clinton Chamber members and/or subscriber list promoting an upcoming event that you are hosting. After two FREE email communications, at your request, the Clinton Chamber will communicate your event for a fee of $25.00 per each request.
Opportunity to serve on committees of special interest to you – Within the chamber we have many different committees that work hard to develop specific areas of interest. Some of our committees include Art & Music Fest, Art Rocks, Events, Farmers Market, Gift Certificates, Marketing/Advertising, Merchants of Clinton and Shoppers' Stroll & Holiday Parade. To join one of our committees, please contact Molly Marris, Executive Director at 315-853-1735 or info@clintonnychamber.org.
Network with other businesses – There are multiple networking events for you to attend and get the word out about your business. The events are held both in the morning and evening to accommodate your schedule. Our networking events are open to current and prospective members.
Host networking events to showcase your business – Nothing works better to promote your business than inviting people into your office or store. You can host a networking event at your location so other businesses get familiar with your business. You provide light beverages and food and we promote the event for you. This is a chance to show fellow members what makes your business special!

Attend and/or present educational programs – Now more than ever we need to stay on top of new ways to build, run and promote our businesses. The rapid changes in technology, media and the economy make it imperative that we keep learning. Perhaps you have valuable information to give to others or maybe you want to attend and learn. Either way these events are a great way to stay ahead.
Introductions/Referrals – If you need an introduction to a business in the chamber, call and we will arrange an introduction. We get to know our members who come out and are active in the chamber. If you would like to get to know someone, give us a call and we'll do our best to get you connected.
Think. Shop. Buy. Live Local – We need to work together to build our local economy. By joining together to promote each other's businesses we develop a strong local network of reputable, high-quality referrals.
Credibility – Our office gets calls all the time for information on local businesses. People like to know that you are a member of the Chamber of Commerce because it means you support the development of your local community.