The Clinton Art & Music Festival will return on Saturday, August 26, 2023!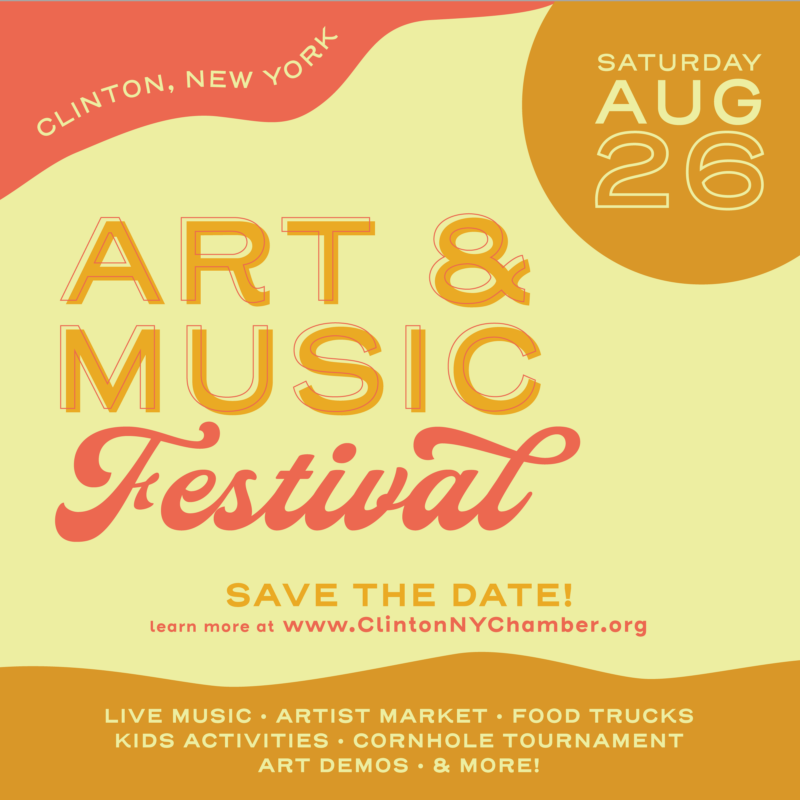 ---
PLEASE NOTE: We are at capacity for vendors for this year's festival.
If you have any questions regarding the Clinton Art & Music Festival, please contact event coordinator, Rachel Bartunek at clintonartandmusicfest@gmail.com.
---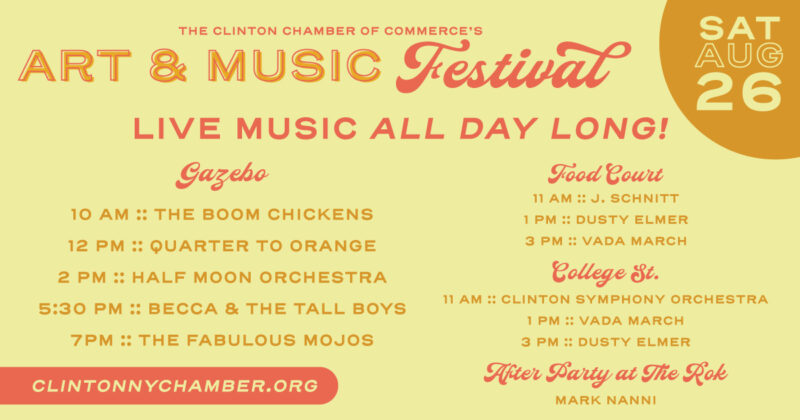 ---
Important Festival Info:
PARKING: available at the two public lots in town as well as Clinton Central School on Chenango Avenue. Street parking, too! West Park Row will be closed to all traffic.
SHUTTLE: A complementary shuttle will be provided by Hale Transportation.  Shuttle stops will include Lumbard Hall, the Village parking lot on College Street, the school parking lot on Chenango Avenue, and the parking lot adjacent to the Clinton Cider Mill.
RESTROOMS: parking lot across from Lumbard Hall.
---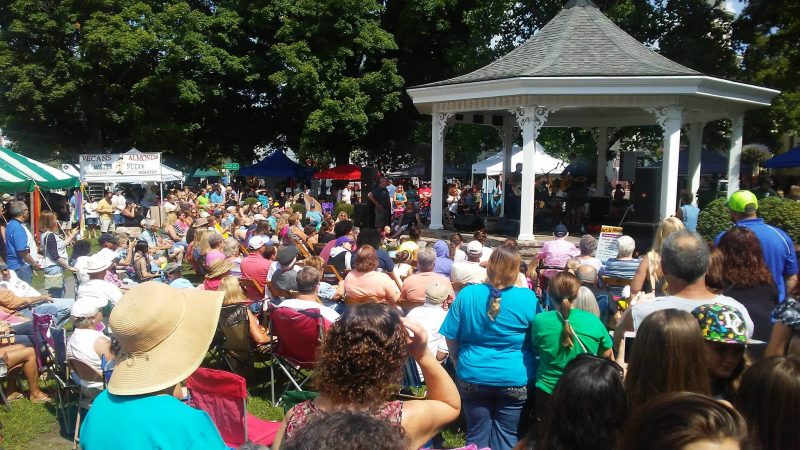 Thank you to our 2023 Sponsors!
Major Events Sponsors:
Access Federal Credit Union
Coldwell Banker Sexton Real Estate
First Source Federal Credit Union
Hamilton College
HobbyTown
Krizia Martin
Lennon's W.B. Wilcox Jewelers
Mosquito Victory
NBT Bank
Smart Carrier
Strategic Financial Services
William Owens & Sons
Festival Sponsor:
Almost Local
Hale Transportation
Krizia Martin
Utica Coffee
Kids' Tent Sponsor:
Stewart's Shops
Music Sponsors:
Ackerman Photography
Brockett Creative Group
Munson
Northland Communications
North Star Orchards
The Rok
Friends of the Festival:
All Seasons Textile Services
Artisans' Corner
Barb Owens – Hunt Real Estate
Broadway Theater League of Utica
Colozzi's Rose Petal Gifts
The Cremeria
Dawn Marie's Treasures
Earth & Ember Skin Care and Massage
Evolve
Golden Artist Colors
Home Sweet Home Cleaning & Gardening
Nooks and Crannies Cleaning
Barkeater Builders
Newport, NY

Log, slab, custom artistic wood pieces.

Beth Wagner Art
Clinton, NY - bethwagnerart@gmail.com
Watercolor paintings, prints, cards, and more

Bob Greer Art
New Hartford, NY - 315-982-1954 - greer0928@aol.com
Original Oil and watercolor paintings


Chasing Westphalia
New Haven, CT - chasingwestphalia@gmail.com
Jewelry, clay goods, clothing.

Chazah Creations
Oneida, NY - 315-264-7609 - chazahcreations@gmail.com
Handmade, fair trade household goods, leather bag, wallets and jewelry from local and Haitian artisans.


Clayville Pottery
Utica, NY - poghosianvartan@gmail.com
Indoor outdoor ornaments, stoneware platters

Creative Roots Studio
Herkimer, NY - 315-868-7618 - m_a_perkins@yahoo.com
Hand crafted artisan jewelry. Sustainably made with recycled metals and hand cut stones, featuring original designs inspired by nature and antiquity.


The Cremeria
Clinton, NY - 315-967-3336 - ciao@thecremeria.com
Gelato and sorbetto cups

Crescent Moon Studio
Constantia, NY - 315-427-8440 - crescentmoonstudios@gmail.com
Design and create gemstone and sterling silver jewelry using hand-selected stones, crystals, fossils, and even meteorites

Custom Designs by Deanna
Canastota, NY - 315-794-1638 - customdesignsbydeanna@yahoo. com
Home Decor - wood signs, garden flags.


Dave's Art Den
Endicott, NY - 607-437-1553 - davesartden123@gmail.com
Oil paintings on canvas, masonite and wood

Garden Girl Studio
Rome, NY - lauren@gardengirlstudio.com
Embroidery kids, art prints, greeting cards, fiber art & hoop art wall decor, sewn products

GG Concessions Hawaiian Shave Ice
Hawaiian shave ice, ice cream

Golden Hands Designs
Apalachin, NY - 607-624-0174 - jaxxroks@yahoo.com
Upcycled jewelry, dreamcatchers, and funky knit and crochet


Howes Workbench
Clinton, NY 13323 - 315-800-3351 - howesworkbench@gmail.com
handmade jewelry


In the Pines Fashion Boutique
Newport, NY - inthepinesfashionboutique@gmail.com
Handmade jewelry, earrings, bracelets, necklaces

Larry's Crafts
New York Mills, NY - 315-542-0105 - muselarry33@yahoo.com
Hand crafted guitar ornaments, made from recycled beer cans


Lilipad Creations
Syracuse, NY - 3153952721 - lilipadcreations@yahoo.com
Handcrafted leather handbags, totes, and small accessories and metal jewelry


Ma & Pa's Kettle Corn
Liverpool, NY - 315-898-6272 - jbell@maandpaspopcorn.com
Kettlecorn, lemonade, and cotton candy

Mark Usyk
Oriskany, NY
Pyrography art, wood burned art

New Hartford, NY - 315-794-1434
Greens, riggies, wraps, subs and drinks

Mix's Glass Works
Syracuse, NY - 315-416-2009
Melted wine bottle cheese boards cracker holders wind chimes


Munson
Utica, NY - 315-797-0000

Oh Crepe & Waffles Food Truck
Vernon, NY - 315-813-3377 - ohcrepecny@gmail.com
Crepes and waffles, savory and sweet

Owner of Sacred Heart Healing Center and local author
Rome, NY - 315-335-4592 - charlenepsychotherapy@gmail.com
Local Author, selling signed books. My book is about losses and helping people with grief. I have been on CBS radio show and in the local newspapers since the press release of my book series.

Paca Gardens
Little Falls, NY - 315-823-1100
Alpaca fiber clothing and products. Hats, Gloves, Mittens, Scarves, Socks, Sweaters, Jackets, and more.


Pineledge Pottery
Camillus, NY - 3153996464 - kaleymchale@gmail.com
Hand made ceramic Mugs, dishes, ornaments, etc


Post St. Farm
Clinton, NY - poststfarm@gmail.com
Fresh cut flower bouquets and gladiolus by the stem

Rose & Poppy Co.
Frankfort, NY - roseandpoppyco@gmail.com
Handmade polymer clay jewelry and other accessories

Shaw's Maple Products
Clinton, NY - 315-725-0547
Everything maple! Maple syrup, maple popcorn, candy, sugar, seasonings, cotton candy, cream, NYS licensed maple bacon dog treats, maple baked goods, and prob more.





Simply Natural
Oneida, NY - kjwellness18@gmail.com
Macrame, embroidery, and boho home decor and accessories

West Edmeston, NY - 516-510-1184
Home decor goods made with reclaimed wood and collage art.


Tug Hill Artisan Roasters
Lowville, NY - 3157786524 - tughillartroast@gmail.com
Roasted, packaged coffee which we offer samples of brewed on site.


Woodrich Creations
Clinton, NY - 6073162582 - 2manyhats@gmail.com
Laser cut jewelry, laser engraved cutting boards, night lights, wooden spoons.


The Yellow House
Kirkville, NY - theyellowhouseny@gmail.com
Jams, jellies, baked goods