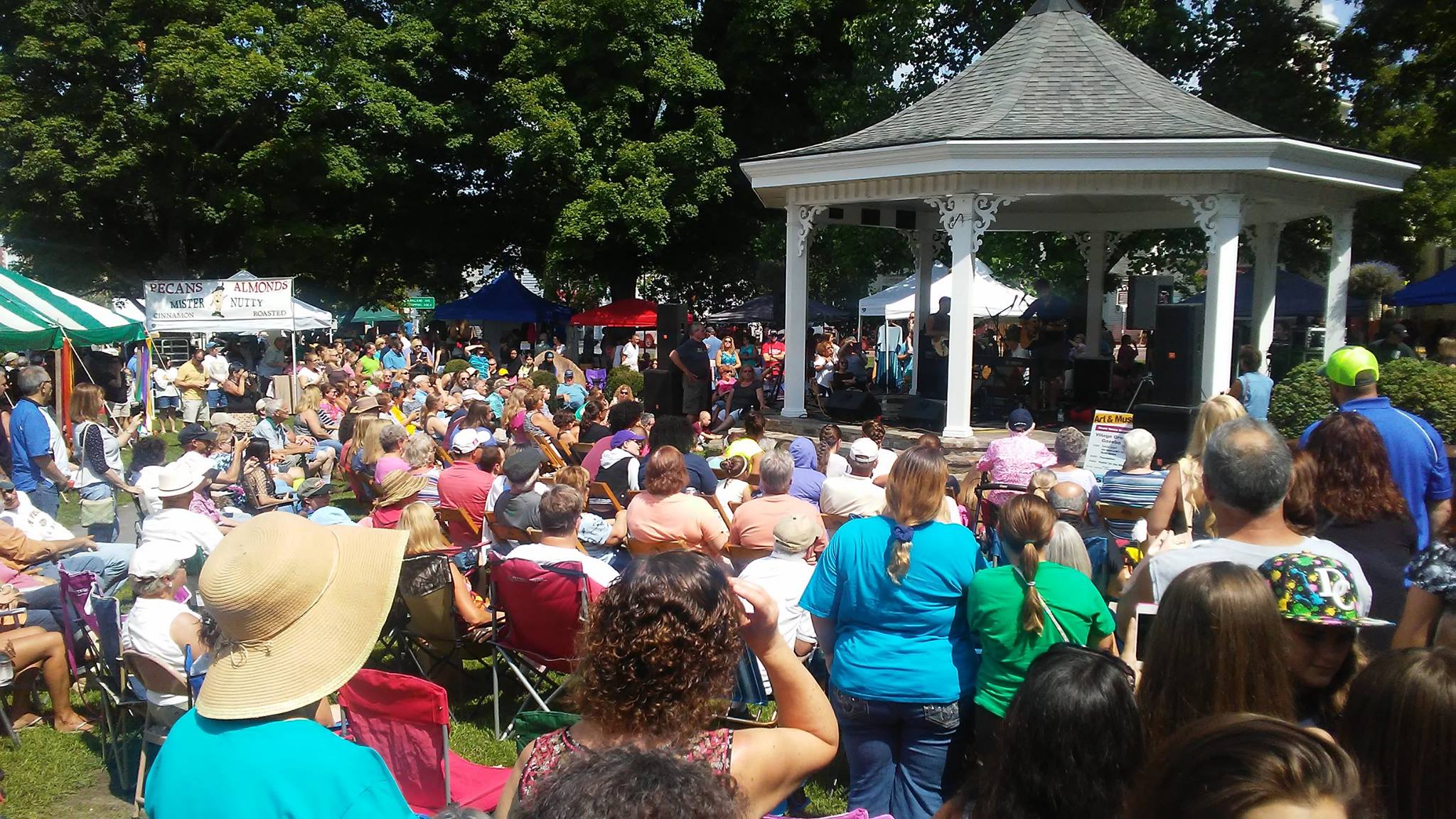 Art & Music Festival – Saturday, August 24, 2019
Celebrate the end of summer with us in a central New York village pretty enough to be on your calendar. Plan to make the trip to Clinton, New York on Saturday, August 24, 2019 for a full day of exceptional live music, impressive artist wares and demonstrations, kids' activities, and a wide variety of interesting and healthy food selections. The Clinton Art & Music Festival offers one of the most impressive and varied musical line-ups of any Upstate music festival, featuring musical acts — from solo acoustic to 10-piece swing, Gypsy to Gospel, Irish to Oompah, jazz to Americana. Stages feature notable guests from all over the Northeast — and its all FREE! But there's so much more…. art tent, and clay activities. Everything gets underway mid-morning and goes on until dusk. Join several thousand of your closest friends for a day that you will remember long after summer fades.
Click here for the 2019 Clinton Art & Music Festival Craft Vendor Application.
Click here for the 2019 Clinton Art & Music Festival Food Vendor Application.
If you have any questions regarding the Clinton Art & Music Festival, please contact event coordinator, Rachel Bartunek at handmadedarling@gmail.com.
Free admission to live music sites!
---
---
---
Parking
Limited parking is available in the Village of Clinton. Alternative parking for the Clinton Art and Music Festival available at the Clinton Elementary School and Clinton Arena parking lots. Shuttles buses will be running from the lots to the the village throughout the day. Thank you to our friends at Community Wellness Partners for providing the Shuttle Buses for the event! Thank you also to the Clinton Central School and Clinton Arena for allowing us to use your parking lots. We love a community that works together!
---
2018 Clinton Art & Music Festival Vendors
All Forked Up – 315-591-5575
Sculptures
allforkedupart@hotmail.com

Altered Glass – 315-723-8660
Glass
sneaklady38@hotmail.com
Art Expressions – 315-865-7444
Acrylic
Lettgwendolyn@gmail.com
As the Crow Flies – 607-988-7764
Candles, pet soaps, lotions and folk art dolls
rhonda@oecblue.com
B & B Burnables –315-486-4568
Candles, votive candles, potpourri oils, perfumed body oils, incense sticks
bbburnables@yahoo.com
Barton Hanna Design – 315-717-7752
Handpainted wooden signs & home decor
bartonhannadesign@gmail.com
Bob Greer Art – 315-735-7865
Oils, Watercolors
greer0928@aol.com
Buttons – Past to Present – 607-441-3333
Antique
buttons14dprice@gmail.com
Camulos Chains –315-982-0120
Hand-crafted chainmaille and chain jewelry in stainless steel and sterling silver
camuloschains@gmail.com
Clinton High School Art Students
Angelo Gaetano
agaetano@ccs.edu
The Cremeria – 315-967-3336
Freshly made gelatos & sorbets
Info@thecremeria.com
Creative Outlet – 315-275-3034
Uncycled Fashion
cbcreativeoutlet@aol.com
Crescent Moon Studio –315-427-8440
handcrafted gemstone fewelry
crescentmoonstudios@gmail.com
Dave's Art Den – 607-437-1553
Oil painting
dave@davesartden.com
Elements By Jacquelyn – 315-525-2801
Lampwork, glass painting
elements_of_the_adirondacks@yahoo.com

Flames of the Past – 914-592-8558
Felted handbags, earrings, acorns, soap, flowers on hats, fascinators & silk scarves
flamesofthepast@gmail.com
Garden Mentor – 315-737-9470
Hypertufa – live plants – gourd birdhouses
hyperjanice@yahoo.com
Golden Hand Design – 607-624-0174
Fiber, recycled
jewelryjaxxroks@yahoo.com
Grandma & Grandpa's Kettle Corn & Lemon Blizzard's Affair –315-380-6122
Kettle corn, lemonade and waffles with fruit & ice cream
rbobandanna@aol.com
Gypsy Girl Pizza – 315-751-9247
On-site wood fired pizza
gourmetgypsygirl@gmail.com
The Grapevine Restaurant – 315-725-1579
gyros, grape leaves, salad, pies, wraps

Handmade Darling – 845-416-1593
Paper goods, event accessories
HandmadeDarling@gmail.com
It's a Sticky Business – 315-841-8422
Snow cones, popcorn, pretzels
Jamarions – 315-271-7486
Marinated chicken sandwich, sausage pepper & onion sandwich, french fries, soda
kdvred26@gmail.com
Jewelry By Gerina – 315-420-0678
Mid-high end jewelry
jewelrybygerina@gmail.com

Jones Family Farm – 315-866-4164
Gelato
info@anotherjonesfamilyfarm.com
Kara's Lemonade & Kantina – 315-790-0969
lemonade & nacho's
karakeeley1@gmail.com
Kingsley Street Artisan Soaps – 315-480-3211
Handmade Bath & Body, Soy blended candles
KT1140@Gmail.com
Kirkland NY Trails – Kirkland Trails seeks to develop a network of connected multi-use trails, paths, and bike lanes in the Town of Kirkland, NY, to provide our community with safe routes for recreation and transportation.
Lady Sew and So On – 315-437-7992
Fabricmnydam@earthlink.net
Madsenarts – 702-581-7496
Fiber apparel & decor
theresa@madsenarts.com
MEME Handcrafted Artisan Jewelry – 315-559-9184
Jewelry – Sterling, fine silver, bronze, copper, semiprecious gemstones and pearlsmkw28@execs.com
Michael T's – 315-794-1434
Riggies, greens, chicken, raviolli's, meatballs, fried eggplant
mchlt65@yahoo.com
Mix's Glass Works – 315-416-2009
Melted upcycled glass products
mrburrows@twcny.rr.com
mybrokenplate – 585-200-4493
Mosaics
atiberriowhite@yahoo.com

nixie knits – 315-886-1028
crochet hats & scarves
itsrebec@gmail.com
Paca Gardens – 315-360-7774
Alpaca products
andymac62@hotmail.com
Paris Hill Reflections – 585-319-8003
Painting drawing
franklinkielar@gmail.com
Paw Claws – 315-736-1923
Alcohol ink matted/framed
c48lewis@yahoo.com
Perfect Love 444 – 315-702-9322
Silver, copper, brass paintings, crochet, wood
nicolestudio444@gmail.com
Perfect Love 444 – 315-702-9322
Silver, copper, brass paintings, crochet, wood
nicolestudio444@gmail.com
Pratts Hollow/Sew Creative – 315-240-4295
Book/paintings
christinakelly48@yahoo.com
Promise Land BBQ – 315-894-0239
BBQ
pldfarm@aol.com
Sandra Reilly – Author – The Wish Fairy Children's Book Series – 315-542-9208
Children's books and handmade accessories
sandradec1405@gmail.com
Serenity Bamboo Flutes –413-298-3759
Bamboo/musical instruments
info@serenitybambooflutes.com
Shaw's Maple Products – 315-725-0547
maple products and cotton candy
info@shawsmapleproducts.com
Shinrin Studio – 607-373-5875
Commic book art and t-shirts
shinrinstudio@gmail.com
Signs and Designs by Brittany – 315-867-4922
Signs/graphic design/paint/glass/wood
brittany_dow@ymail.com
Sonoka County – 516-510-1184
Mixed Media Collage
sonoka@sonokacounty.com
Songbyrd Street Studios – 315-335-3791
Fused Glass
songbyrdstreetstudios@gmail.com
SterlingWorks by Jody – 315-894-3345
Sterling silver jewelry, some gold filled
jody525@verizon.net
Stone Presbyterian Church – Fair Trade Shoppe – 315-853-2933
Stonepres@verizon.net
Susan's Silk – 315-864-1994
Silk dye stems
smsilk2@gmail.com
Sweet Escape – 315-542-0085
Chocolate/confections/artisan items
info@sweetescapechocolatelounge.com
Thorn Apple Hill Rustic Wood Crafts/Quick's Rustic Soaps – 315-853-6240
Rustic wood crafts/handmade soap
chainsawcharlie43@yahoo.com
Tim Carey Photography – 315-404-2793
tcarey6@roadrunner.com
Tug Hill Artisan Roasters, LLC – 315-308-0867
Roasted coffee in 10 oz bags, whole beans and ground
tughillartroast@gmail.com
Waggley Wear – 315-486-6303
Fiber Fabric
joycewoodcock@frontier.com
The White Green Cloth LLC – 863-808-3013
nstu325@hotmail.com
The Wooden Pig – 315-794-3956
Pen & Ink, watercolor & mixed media
woodenpigcny@gmail.com
Woodrich Creation's – 607-316-2582
Scroll saw art, painted design, woven rag
2manyhats@gmail.com
Zach Lewis Photography
photography
Zimmer's Bakes – 315-329-4586
Baked goods
mizzbkr50@gmail.com