The Clinton Art & Music Festival will return on Saturday, August 26, 2023!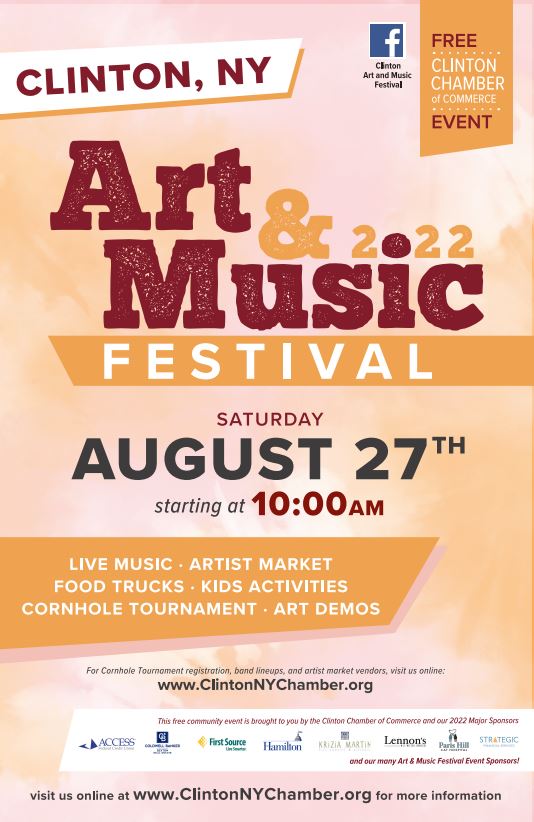 ---
PLEASE NOTE: We are at capacity for vendors for this year's festival.

If you have any questions regarding the Clinton Art & Music Festival, please contact event coordinator, Rachel Bartunek at clintonartandmusicfest@gmail.com.
---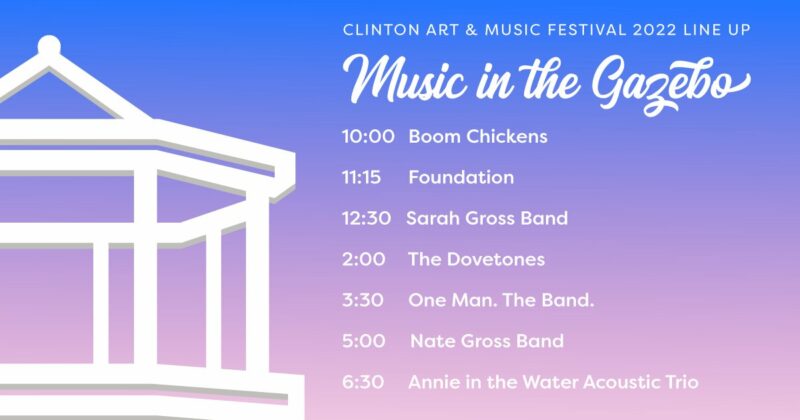 ---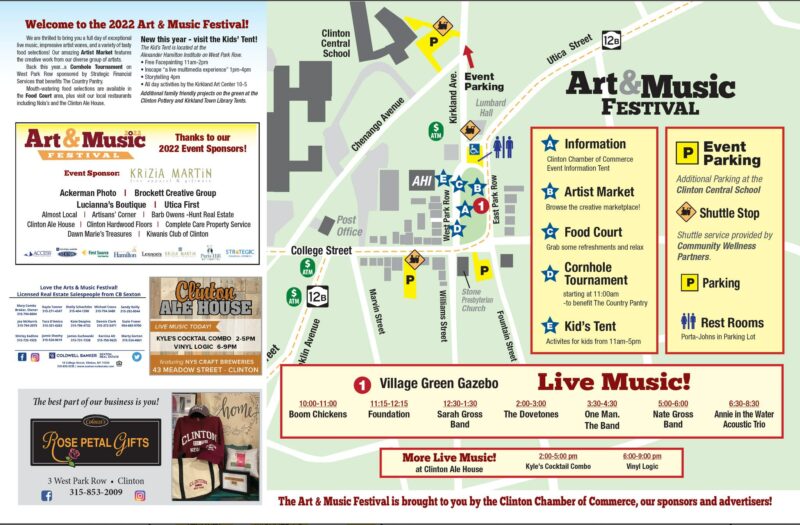 Important Festival Info:
PARKING: available at the two public lots in town as well as Clinton Central School on Chenango Avenue. Street parking, too! West Park Row will be closed to all traffic.
SHUTTLE: running 12pm-4pm thanks to Community Wellness Partners. There are 3 pick-up/drop-off locations – the School, College St. parking lot, and Lumbard Hall.
RESTROOMS: parking lot across from Lumbard Hall.
---
2022 Clinton Art & Music Festival Vendors

2Eras Art
Rome, NY - 315-225-6200 - ashlynnesche.2eras@aol.com
Art pieces, originals and prints - resin art and homemade oils and goods


Ali Ann Floral
Rome, NY - 3159558103 - hms81713@gmail.com
Resin notebooks/planners and flower preservation in resin


All Forked Up Art
Camden, NY - 813-395-3973 - allforkedupart@hotmail.com

Silverware sculptures

Anniversary Banks
Clinton, NY - 315-525-7377 - moeandsarahl@gmail.com

Fine woodworking: banks, wall sculptures, and benches
Multimedia art: original wall art, prints and cards

Anomalie Shop
Utica, NY - 315-269-7353 - jpdistribution12@gmail.com
Wooden home decor, beer and wine tables, cutting boards. Organic lotion candles, bonfire candles.


Ash, Oak & Thorn, LLC
Oneida, NY - 315-751-9486 - ashandoakandthorn@gmail.com
Handmade soap, bath soaks, oils, herbal bundles, and balms. Hand poured and dipped candles. Handmade leather books, bags and accessories. Handmade totes, aprons, and household decor.

Constableville, NY – 315-790-9433 - bbburnables@yahoo.com
Scented candles, incense and oils


Bohemian Splendor
315-422-2323 - argyllcollection@gmail.com
Tie-dye & printed t-shirts, jewelry & home-seen clothing


Bob Greer Art
New Hartford, NY - 315-982-1954 - greer0928@aol.com
Original Oil and watercolor paintings


Chazah Creations
Oneida, NY - 315-264-7609 - chazahcreations@gmail.com
Handmade, fair trade household goods, leather bag, wallets and jewelry from local and Haitian artisans.


Crafty Mama Paradise
Cassville, NY - 315-922-4328 - shawnatitus47@yahoo.com
Customized items using sublimation and vinyl.


Creative Roots Studio
Herkimer, NY - 315-868-7618 - m_a_perkins@yahoo.com
Hand crafted artisan jewelry. Sustainably made with recycled metals and hand cut stones, featuring original designs inspired by nature and antiquity.


The Cremeria
Clinton, NY - 315-967-3336 - ciao@thecremeria.com
Gelato and sorbetto cups

Crescent Moon Studio
Constantia, NY - 315-427-8440 - crescentmoonstudios@gmail.com
Design and create gemstone and sterling silver jewelry using hand-selected stones, crystals, fossils, and even meteorites

Custom Designs by Deanna
Canastota, NY - 315-794-1638 - customdesignsbydeanna@yahoo. com
Home Decor - wood signs, garden flags.


David "RC" Oster
Utica, NY - 315-525-5838 - ostercoaster@aol.com
Ink and pencil drawings of historic buildings in the region....mostly scenes of landscapes and old farms around central New York

Dave's Art Den
Endicott, NY - 607-437-1553 - davesartden123@gmail.com
Oil paintings on canvas, masonite and wood

Dawson Rae Designs
Clinton, NY - 315-527-2010 - danielleb926@yahoo.com
Handmade beaded jewelry

Elements By Jacquelyn
Boonville, NY - 315-525-2801 - elements_of_the_adirondacks@yahoo.com
Lampwork glass, Jewelry and Gifts, Paintings, Prints


EZ Natural Products
Remsen, NY - 914-893-7481 - sales@exnaturalproducts.com
Soaps - candles whipped sugar scrub


Fabrications
Syracuse, NY - 315-437-7992 - mnydam@earthlink.net
Fabric craft--bags,backpacks,totes,wallets; aprons,potholders,casserole carriers; hats


Golden Hands Designs
Apalachin, NY - 607-624-0174 - jaxxroks@yahoo.com
Upcycled jewelry, dreamcatchers, and funky knit and crochet


Howes Workbench
Clinton, NY 13323 - 315-800-3351 - howesworkbench@gmail.com
handmade jewelry


Judy Swayze Designs
Tully, NY - 315-427-7012 - judyswayzedesigns@yahoo.com
Design and make nature inspired wood pyrography (wood burned) jewelry and ceramic jewelry.


Julie Draws
Fayetteville, NY - 917-543-3475 - julie@paperslam.com

Framed prints, unframed prints, and greeting cards with my original illustrations printed on them.

Karen's Happy Paints
Clinton, NY - 610-751-9689 - karencollins31@gmail.com
Bright & happy acrylic paintings, signs, porch leaners, and door hangers to bring a little color to your every day!


Kathy's Creations
Vernon, NY - 315-863-0204 - kathyscreations07@yahoo.com

Wreaths and home decor

North Syracuse, NY - 315-480-3211
Soap and hand sanitizer


Syracuse, NY - 765-993-5660 - knittingbydarian@gmail.com
Handmade knit wear ranging from summer tanks, home goods, winter wear such as beanies, fingerless gloves, and scarves.


Larry's Crafts
New York Mills, NY - 315-542-0105 - muselarry33@yahoo.com
Hand crafted guitar ornaments, made from recycled beer cans


Lilipad Creations
Syracuse, NY - 3153952721 - lilipadcreations@yahoo.com
Handcrafted leather handbags, totes, and small accessories and metal jewelry


Maad Hatter
Holland Patent, NY - 315-865-5328
Hip knit hats and more (fingerless gloves, baby items, neck warmers)


Made By Lizeth, LLC
East Syracuse, NY - 516-303-2601 - madebylizethh@gmail.com
handmade hair accessories (headbands / scrunchies / hair bows) and reusable homeware items for every day use and wear


New Hartford, NY - 315-794-1434
Greens, riggies, wraps, subs and drinks

Mix's Glass Works
Syracuse, NY - 315-416-2009
Melted wine bottle cheese boards cracker holders wind chimes


Owner of Sacred Heart Healing Center and local author
Rome, NY - 315-335-4592 - charlenepsychotherapy@gmail.com
Local Author, selling signed books. My book is about losses and helping people with grief. I have been on CBS radio show and in the local newspapers since the press release of my book series.

Paca Gardens
Little Falls, NY - 315-823-1100
Alpaca fiber clothing and products. Hats, Gloves, Mittens, Scarves, Socks, Sweaters, Jackets, and more.


Pineledge Pottery
Camillus, NY - 3153996464 - kaleymchale@gmail.com
Hand made ceramic Mugs, dishes, ornaments, etc


Pink Moon Apothecary
Poland, NY - 9048668917 - pinkmoonholistics@gmail.com
Handmade organic skincare products, herbs + remedies, hand poured soy candles, handcrafted jewelry, energy cleansing tools, and carefully curated home decor.


Ravens Nest Emporium
Syracuse, NY - 518-742-9299 - ravensnestcandles@gmail.com
Pure soy candles, artisan soap, bath bombs, shower steamers, room spray, beard oil, shampoo bars.


Shaw's Maple Products
Clinton, NY - 315-725-0547
Everything maple! Maple syrup, maple popcorn, candy, sugar, seasonings, cotton candy, cream, NYS licensed maple bacon dog treats, maple baked goods, and prob more.





West Edmeston, NY - 516-510-1184
Home decor goods made with reclaimed wood and collage art.


Spring Creek Lavender
Remsen, NY - 315-790-0969 - springcreeklavender@gmail.com
Lotion, face and body oil, candles, dried flower wreaths, lavender, clay earrings, Necklaces, bath bombs, soaps, salt scrubs, beard oil, lavender brooms, dried lavender, essential oils, stickers. We are a lavender farm and make a lot of different products surrounding lavender


The Unique Unicorn
Ilion, NY - 315-737-1929 - mrs.spell@yahoo.com

Unique sterling silver gemstone jewelry, meteorite pieces, crystals and vintage finds.

TRand Art Studio & Gallery
Clinton, NY - 315-527-7396
Prints and originals from my Life Is Sweet series which will include paintings and printmaking works.


Tug Hill Artisan Roasters
Lowville, NY - 3157786524 - tughillartroast@gmail.com
Roasted, packaged coffee which we offer samples of brewed on site.


Walking Miss Daisy Pet Accessories
Syracuse, NY - 315-447-3929 - walkingmissdaisypetacc@gmail.com
Handmade dog collars, cat collars, leashes, add on flowers and ties, catnip sticks, bandanas and treats.


Wistle Girl Farmhouse Flowers
Clayville, NY - 315-717-9024 - clcarney4@yahoo.com
Farmhouse flower bouquets locally grown here in Litchfield, NY


Woodrich Creations
Clinton, NY - 6073162582 - 2manyhats@gmail.com
Laser cut jewelry, laser engraved cutting boards, night lights, wooden spoons.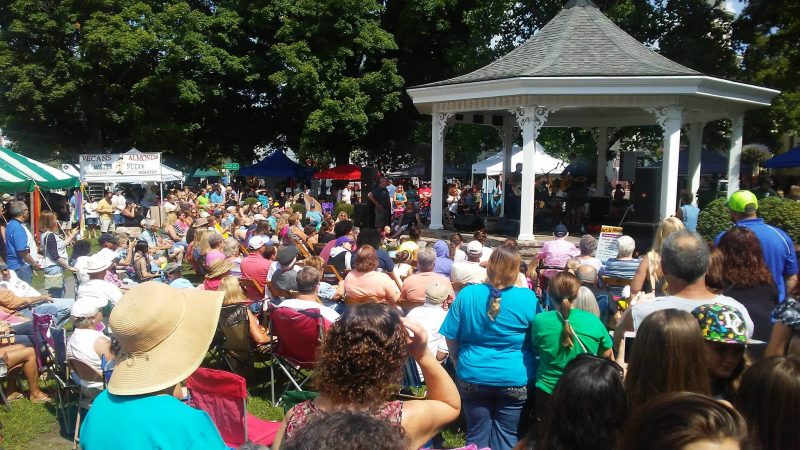 Thank you to our 2022 Sponsors!
Major Events Sponsors:
Access Federal Credit Union
Coldwell Banker Sexton Real Estate
First Source Federal Credit Union
Hamilton College
Krizia Martin
Lennon's W.B. Wilcox Jewelers
Paris Hill Cat Hospital
Strategic Financial Services
Festival Sponsor:
Krizia Martin
Music Sponsors:
Brockett Creative Group
Utica First Insurance Company
Ackerman Photography
Friends of the Festival:
Clinton Ale House
Complete Care Property Services
Kiwanis Club of Clinton
Dawn Marie's Treasures
Barbara Owens – Hunt Real Estate
Almost Local
Clinton Hardwood Floors
Artisans' Corner
Festival Program:
Clinton Ale House
Paca Gardens
Coldwell Banker Sexton Real Estate
Rose Petal Gifts
Clinton Cider Mill
Marty Gordon – Coldwell Banker Sexton