Art Rocks returns to Clinton, NY in 2021! "GET ROCKIN' IN CLINTON, NY"
Hand-crafted Adirondack rocking chairs featuring original artwork painted by local artists will be displayed at Art Rocks sponsor businesses and merchants throughout the village and beyond. In June we will reveal the "Art Rocks Stroll" map and materials detailing the chair locations and artist/sponsor information. Visitors will marvel at the artist's creativity with rockers that may be described as contemporary, whimsical, classical, folksy, edgy, avant-guard or crafty. Art Rocks is a fundraiser for the Clinton Chamber, and these masterful and functional works of art are available for purchase to the highest bidder. The Chamber splits the proceeds from the auction with the artists.
Art Rocks typically concludes with a Live Auction, however this year we are adapting the event to conclude with a Silent Auction. On June 25th, the chairs will be on display and the bidding will open from June 25 through August 24. The winning bids will be announced on August 25th. Your bids are supporting this great community event and the creative spirit in Clinton, thank you for your continued support of Art Rocks!
OPENING BID FOR EACH CHAIR IS $150 – OPENING BID FOR EACH CHILDREN'S CHAIR IS $125
"BUY IT NOW" – Any chair for $1000.00, contact the Clinton Chamber of Commerce at 315-853-1735 for details. 
This page will be updated with the new program information on June 25, 2021, and the bidding will officially be open at that time.
Email event coordinator, John Costanzo at  john.costanzo@proforma.com with any questions.
Art Rocks is every other year, below are the chairs and benches for our 2019 event.    
---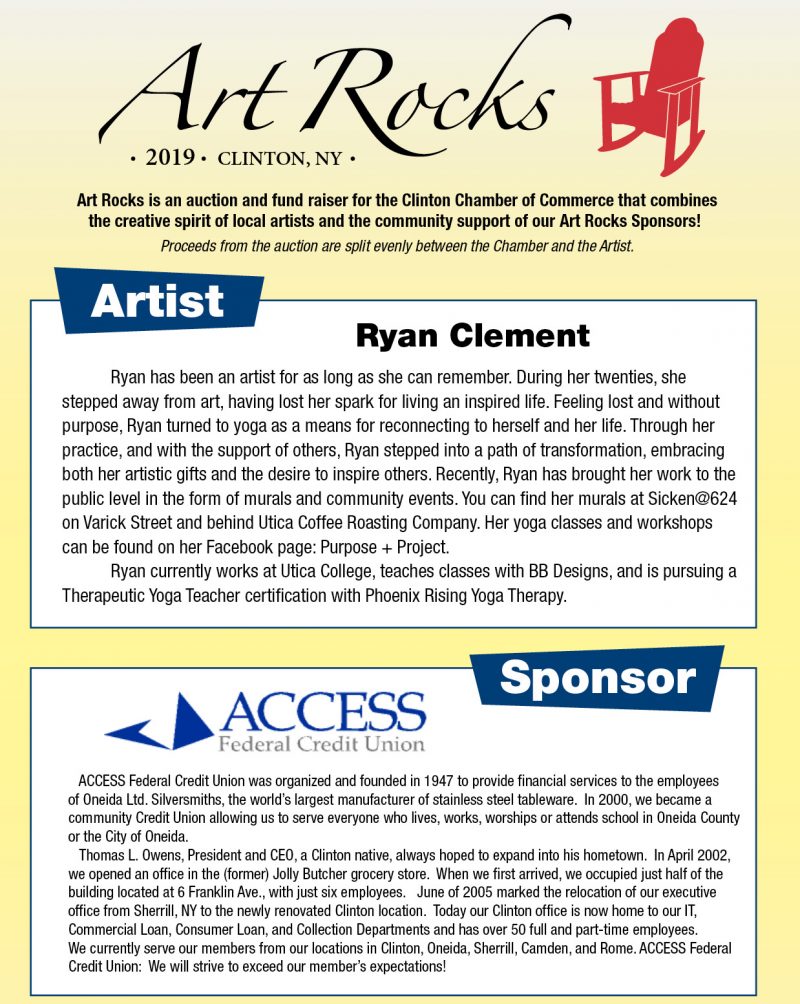 ---
Sponsor: Allstate – Fouriner Agency –  Artist: Jennifer Major – Winning Bid: $160
---
Sponsor: The Arbor Inn of Clinton – Artist: Karen Collins – Winning Bid: $330
---
Sponsor: Artisans' Corner – Artist: Cris Lewis – Winning Bid: $370
---
Sponsor: The Burns Agency – Artist: Clare Rieben – Winning Bid: $310
---
Sponsor: Clinton Agway – Artist: Nicole Becker – Winning Bid: $210
---
Sponsor: Clinton Arena – Artist: Tim Rand – Winning Bid: $290
---
---
Sponsor: Clinton Wine & Spirits – Artist: Kelly Boden – Winning Bid: $500
---
---
Sponsor: The Cremeria – Artist: Rachel Bartunek – Winning Bid: $320
---
Sponsor: Hamilton College – Artist: Tim Pryputniewicz – Winning Bid: $330
---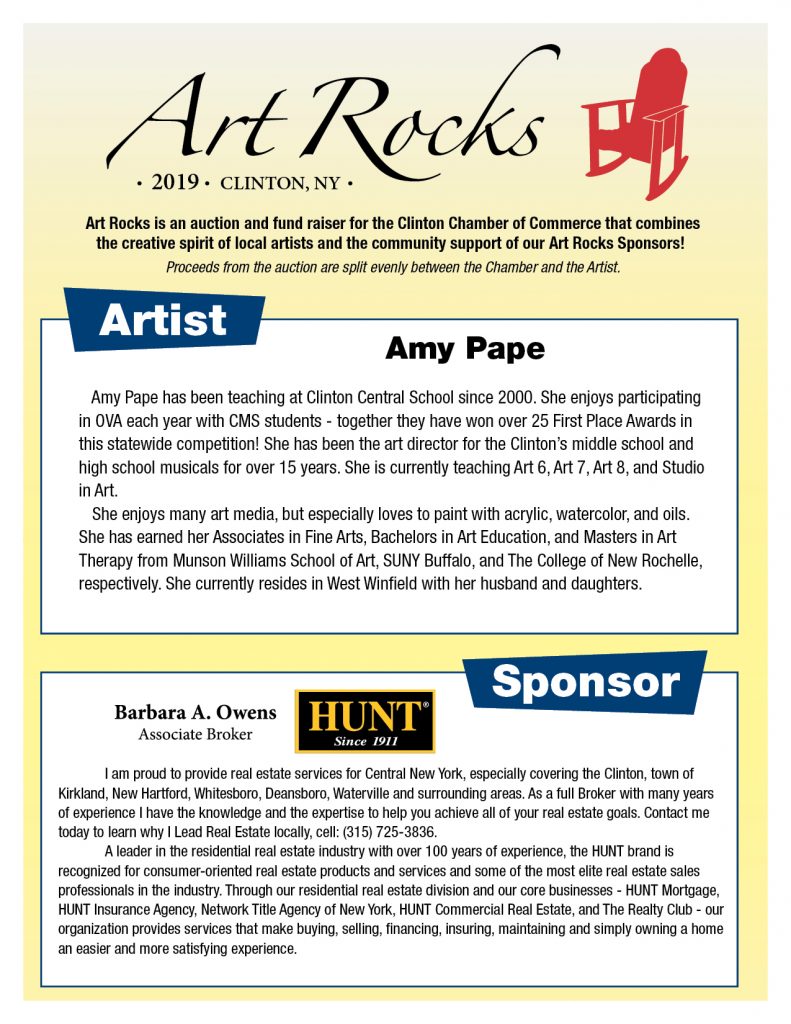 ---
Sponsor: Krizia Martin – Artist: Jennifer Krawiec – Winning Bid: $310
---
Sponsor: Pinny & George Kuckel – Artist: Robin Jones – Winning Bid: $290
---
Sponsor: LutheranCare – Artist: John Costanzo – Winning Bid: $310
---
Sponsor: NBT Bank – Artist: Nancy Rouillier-Jones – Winning Bid: $670
---
Sponsor: Nola's – Artist: Casey Miller – Winning Bid: $380
---
Sponsor: North Star Orchards – Artist: Roger Maxam – Winning Bid: $350
---
---
---
---
Sponsor: Tom's Natural Foods – Artist: Katrina Tickle – Winning Bid: $170
---
Sponsor: Ward Arcuri Law Firm – Artist: Sally Glouse – Winning Bid: $450
---
Thank you to Jeremy Ackerman for taking the pictures of the chairs and benches. To learn more about Jeremy Ackerman Photography, visit https://www.facebook.com/jeremyackermanphotography/
---
2019 Art Rocks Locations