Art Rocks returns to Clinton this summer! "GET ROCKIN' IN CLINTON, NY"
Hand-crafted Adirondack rocking chairs featuring original artwork painted by local artists will be displayed at Art Rocks sponsor businesses and merchants throughout the village and beyond. In June we will reveal the "Art Rocks Stroll" map and materials detailing the chair locations and artist/sponsor information. Visitors will marvel at the artist's creativity with rockers that may be described as contemporary, whimsical, classical, folksy, edgy, avant-guard or crafty. Art Rocks is a fundraiser for the Clinton Chamber, and these masterful and functional works of art are available for purchase to the highest bidder. The Chamber splits the proceeds from the auction with the artists.
Art Rocks will conclude with a Live Auction at the Clinton Art & Music Festival on Saturday, August 26th. Your bids are supporting this great community event and the creative spirit in Clinton, thank you for your continued support of Art Rocks!
---
Stay tuned for Art Rocks online bidding this summer. The bidding will conclude with the Art Rocks Live Auction on Saturday, August 26th at the Art and Music Festival! The Live Auction starts at 4:30pm in the Gazebo. All current online bids will be the "opening" bid at the Live Auction.
Thank you to Jeremy Ackerman for taking the pictures of the chairs. To learn more about Ackerman Photo, visit https://www.facebook.com/ackermanphotography
Take the 2021 Art Rocks Stroll in Clinton!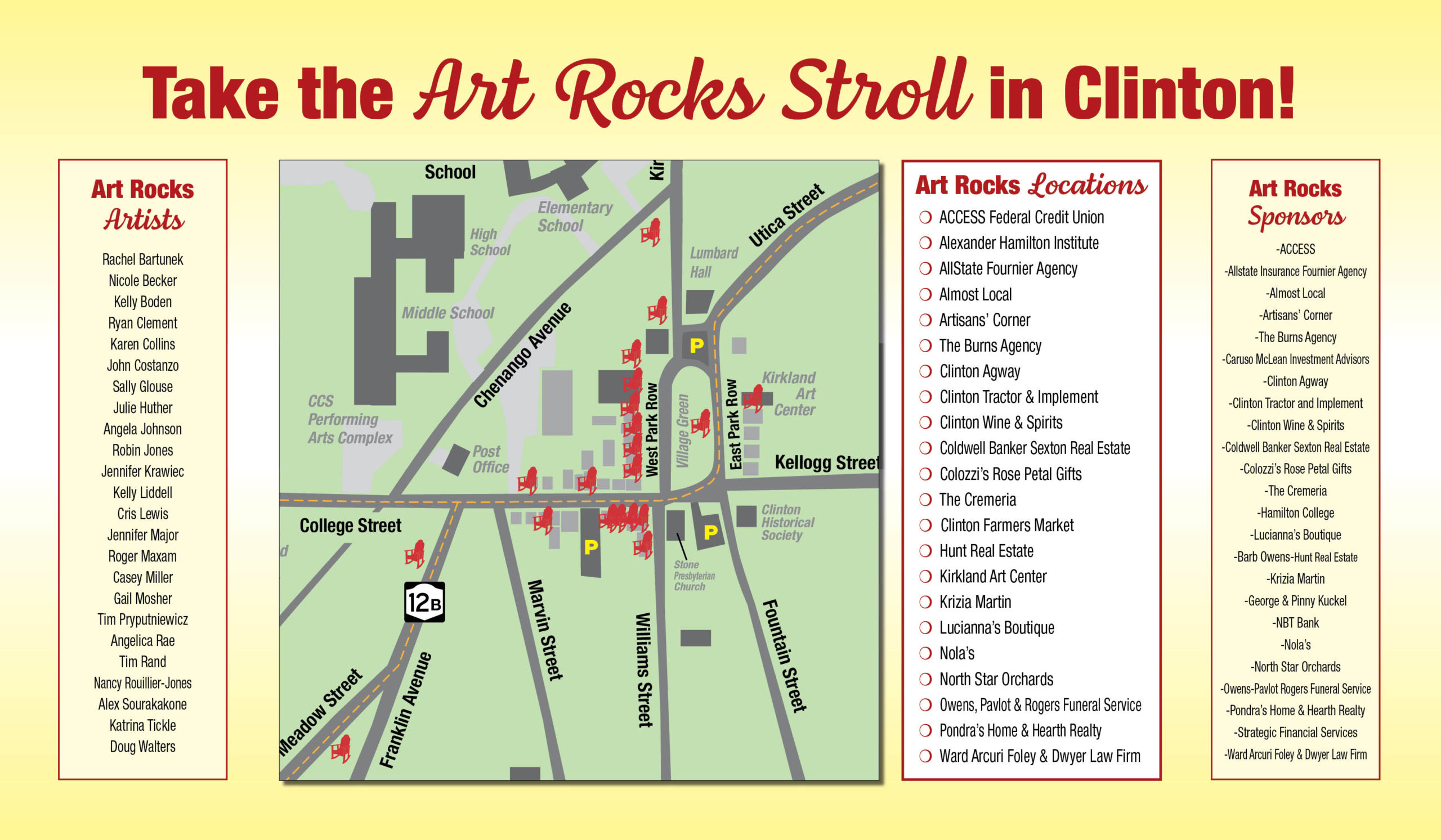 Take the Art Rocks Stroll in Clinton! As you walk around the Village, check out the work of talented, local artists that have made an Adirondack rocking chair their canvas. Art Rocks is a fundraiser for the Clinton Chamber, and it is made possible with the support of local businesses and community members that sponsor the chairs!