2022 Clinton Chamber of Commerce Major Sponsor Opportunity
The Clinton Chamber of Commerce is looking forward to another great year of community events. We invite you to be an integral part of the Clinton Chamber of Commerce community events by becoming a Major Events Sponsor of our three main events throughout the year. Through your financial contribution, you will benefit from the media exposure provided through printed materials, television advertising, the Chamber website and social media pages.
---
2022 Major Events Sponsorship in the Clinton Chamber of Commerce includes the following for all the events:·
Company logo on printed materials such as rack cards, posters and newspaper ads
Company logo on sponsor banner at the Chamber Information Booth
Promoted as the Major Events Sponsor on the Chamber website and social media pages (with a clickable link to your website)
Company logo on Clinton 5K Jingle Jog T-shirts.
Your company logo will be displayed on the Clinton Chamber website (on every page) as a 2022 MajorEvents Sponsor and placed on our monthly electronic newsletter with a clickable link to your website.
Clinton Farmers Market
The Clinton Farmers Market is the largest Farmers Market between Albany and Syracuse. Along with the current acceptance of FMNP (Farmers Market Nutrition Program) and SNAP (Supplemental Nutrition Assistance Program, new last year), we are planning more activities for the community during the market hours such as a Power of the Produce (POP) Club promoting healthy eating for kids at the market. Over 30,000 people attend our farmers market every year. The Clinton Farmers Market has a dedicated Facebook page where we promote our sponsors, vendors and activities taking place at the market.
Clinton Art & Music Festival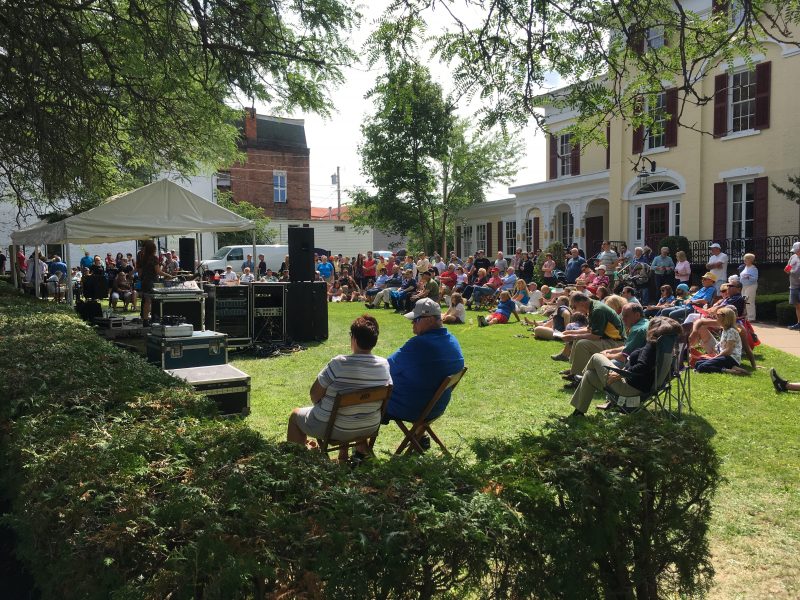 The Clinton Art & Music Festival is usually held on the last Saturday in August. In the most recent years, we've had over 5,000 visitors in Clinton for this one-day event. The Clinton Art & Music Festival has a dedicated Facebook page where we will promote our sponsors, artist, musicians and schedule of events.
Clinton Shoppers' Stroll & Holiday Parade and 5K Jingle Jog
The Clinton Shoppers' Stroll & Holiday Parade is the premier holiday event in the Mohawk Valley. The festivities offer an escape from the hustle and bustle of the malls and an opportunity to take part in a nostalgic event within the historic Village of Clinton. Village businesses and community organizations offer complimentary food, drink, hospitality and music. Non-profit and civic groups set up different types of sidewalk activities like selling roasted chestnuts, hot pretzels, buttery popcorn, hot cider, and more. Activities will include horse-drawn wagon rides and holiday carolers performing throughout the village. On Saturday, the festivities continue and we join in the celebration of Small Business Saturday! In 2018, we hosted the first annual Clinton 5K Jingle Jog with great success! Santa and Mrs. Claus and the horse-drawn wagon rides return for another day of fun! #ShopSmall #ShopLocal
Clinton Art Rocks (this event takes place every other year…see you in 2023)
Every other summer, Art Rocks transform Clinton into an outdoor gallery with handcrafted Adirondack rockers, each featuring original artwork painted by a local artist. The rockers are displayed at businesses and merchants throughout the village and beyond. After years of offering the rocking chairs, we added hand-crafted benches with original artwork.
Art Rocks is an auction, with bids accepted on the chairs and benches during the summer. The event concludes with an exciting live auction on the Clinton Village Green during the annual Clinton Art & Music Festival.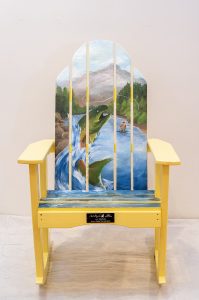 Enjoy all the benefits as a 2022 Major Events Sponsor for $1,500.00.
To be included on the Clinton Chamber Information Banner, payment must be received by May 1, 2022.
If you have any questions, please do not hesitate to contact Molly Marris at 315-853-1735 or info@clintonnychamber.org.  Thank you in advance for your consideration!
---
Membership investments are not tax-deductible as a charitable contribution but may be deductible as an ordinary and necessary business expense. Consult your tax advisor. The Clinton Chamber of Commerce is a 501(C)(6) not-for-profit organization. No refunds will be given.