The 2019, Clinton Farmers Market is CLOSED for the season.  We will open in 2020 on Thursday, June 4th through Thursday, October 1st.  The market is open on Thursdays from 10 am – 4 pm.  
The Clinton Farmer Market is a family friendly market offering music in the gazebo, storytime organized by the Kirkland Town Library (see schedule below for dates and times) and a Power of Produce Kids Club for ages 5 – 12.  There's a great selection of fresh produce, arts & crafts and a select number of prepared food vendors.  Bring a blanket to spread out on the village green and enjoy your day in Clinton!  
Returning vendor applications will be sent out in February 2020.  All returning vendors will be given a deadline date to respond.  This will help us determined the available number of spots to offer New Interested Vendors.  Applications to New Interested Vendors will be sent out in April 2020. 
If you are interested in becoming a vendor at the 2020 Clinton Farmers Market, please click here to be placed on the New Interested Vendor application list.
Power of Produce (POP) Kids Club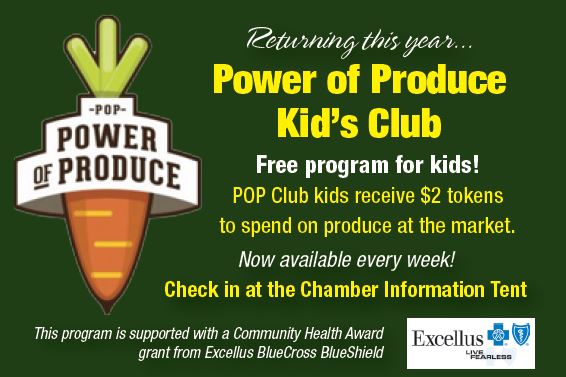 FREE activities for kids ages (5 – 12)! Check in the at Clinton Chamber Information Booth for your Passport to Health!
The program in 2019 is supported with a Community Heath Award from Excellus BlueCross BlueShield.
The Power of Produce Club, or the POP Kids Club, began at the Oregon City Farmers Market in 2011. This innovative program is designed to educate children ages 5-12 about making healthier food choices, empowering them to make healthier food purchases and introducing them to where their food comes from. The driving theme behind the program is to encourage the development of healthy eating habits at an early age.
Children register to participate in the program by completing and signing a "Passport to Health" at the market. A parent's signature is required for each child registration completed. As they attend market sessions, their Passport to Health card is marked for their attendance and they receive $2 in wooden tokens to spend on fresh fruit and vegetables during each market visit.
---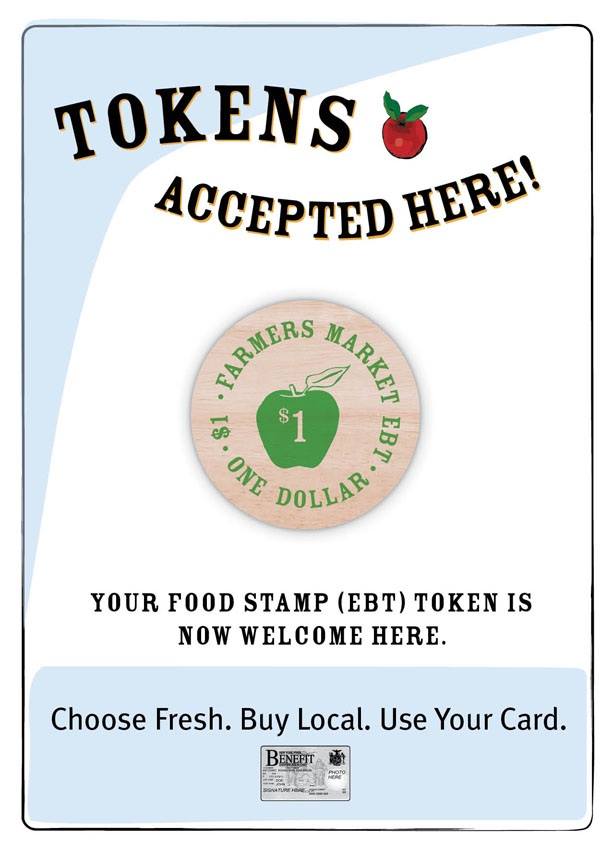 SNAP Tokens ACCEPTED!
The Clinton Farmers Market accepts SNAP tokens at the market. Stop by the Clinton Chamber Information Booth for more information. New vendors interested in participating, please fill out the REQUIRED Program Participation Agreement and email or mail it back to the Chamber. For more information on SNAP, please visit: http://snaptomarket.com/
---
INCENTIVE COUPONS also available! – Fresh Connect Check
Get a $2 FreshConnect Check (FCC) for every $5 in SNAP benefits used at the Clinton Farmers Market. The FreshConnect Checks can be used at all vendors who accept SNAP. To learn more, visit: freshconnect.ny.gov
---
VENDORS – Share your story with us! Click here to fill out the form and be FEATURED on our social media pages!
---
2019 Clinton Farmers Market Vendors
7 Trees Dairy Goats*
Canastota, NY – 315-382-4065
Soft, semi soft and aged goat cheese. Various sized cheese boards (wooden).
7treesdairy@gmail.com

B & B Burnables
Constableville, NY – 315-790-9433
Candles, votives, potpourri oils, perfumed body oils, incense sticks
bpainter@twcny.rr.com

Barbie Fashions By Caryl
Rome, NY – 315-404-2520
Barbie & American Girl Clothes
spinkcj@twcny.rr.com
Bell Tower Order of the Eastern Star
Clinton, NY
Hot dogs, cold sodas and snacks (chips)
Bolivers Gold & Silversmith
Croghan, NY, 315-608-1693
Solid sterling silver necklaces, bracelets, rings, anklets, earrings & pendants
The Cabbage Cove
Richfield Springs, NY – 518-231-1483
Fermented cabbage
thecabbagecove@gmail.com
Cats in the Attic Cards
New Hartford, NY – 315-272-5533
Homemade cards & gift boxes
catsintheatticcards@gmail.com
Champagnes Gourmet Bacon
(Accepts SNAP)
Herkimer, NY – 315-717-5502
Bacon chocolate, bacon novelties
mcchamp1@msn.com
Cheese Filled
Syracuse, NY – 315-317-2047
Cheese filled, pepperoni, pickes, summer sausage, spread & pickled pepperoni
cheesefilledcompany@yahoo.com

Clinton Historical Society
(Chamber Member)
Clinton, NY – 315-859-1392
Books & Memorbilia
Common Thread CSA
(Accepts SNAP, FCC and FMNP)
Madison, NY – 315-882-0086
Mixed vegetables & herbs, CSA
info@commonthreadcsa.com

Conley Farm
Lee Center, NY – 315-240-1171
Goat milk soap & lotion, wool dryer balls, upcycled feed bag, cookies, muffins, jam, farm pictures, pastured raised chicken, eggs
amymconley23@gmail.com
CNY Green Cycle* (Chamber Member)
New Hartford, NY – 315-922-0642
100% recycled 5 gallon bins, Biweekly compost/food scrap pick up services. Clear the air, compost addative. Repackaged compost
melissa@cnygreencycle.com
The Cremeria
(Chamber Member)
Clinton, NY – 315-967-3336
Freshly made gelatos and sorbets of varying flavors.
Info@thecremeria.com
Dark Hollow Farms
Smyrna, NY
Fresh cut/dried flowers, fresh cut herbs, vegetable, flower, herb plants, maple syrup

Dianne Porcelain
Vernon, NY – 315-829-3044
Hand painted porcelain
granmadede@@aol.com
Drover Hill Farm
(Accepts SNAP & FCC)
Earlville, NY – 315-691-2327
Pasture raised Beef, Pork, Lamb and Chicken
droverhill@aol.com
Ellisborough Farm* (Accepts SNAP, FCC and FMNP)
Vernon, NY – 315-570-7211
Jellies and Jams, fresh produce, brown eeggs (free range), honey, breads, rolls, cookies, cakes, brownies, fudge, pies, Indian Corn, pumpkins, gourds, crocheted baby blankets/cacoons and hats.
ladyofellis@gmail.com
Exeter Park Produce and Garlic
(Accepts SNAP & FCC)
West Winfield, NY – 315-982-3589
Naturally-grown produce & herbs. Culinary & seed garlic. Eggs, hens, bison meat.Pies, breads & rolls, cookies, jams & Jelly. Cut fresh & dried flowers.
exeterparkny@gmail.com
Floral Root
Canajoharie, NY – 518-469-1152
Succulents – soft & hardy . Herbs – annual & perennial. Cut flowers
lmdean23@gmail.com
Flour & Salt*
Hamilton, NY – 973-769-2836
Bagels, pastries, quickbreads, cookies, bagel chips, granola, breads (brioche rolls, milkbread, sandwich rye)
britty@flourandsalt.com
Friendly Designs
New Hartford, NY -315-351-6627
Handmade aprons, summer dresses for kids & adults. Purses, wall hangings
catherinedesigns123@gmail.com
G & M Farms
(Accepts SNAP, FCC and FMNP)
Morrisville, NY – 315-684-9223
Fresh produce, jam, hot sauce, salsa & pickles
info@gandmfarms.com
Gaia's Breath Farm*
Jordanville, NY
Certified Organic by NOFA. Vegetables, meats, Mother's milk fed veal
gaiasbreathfarmer@gmail.com
Gentle Breeze Alpacas(August – October Only)
Burlington Flats, NY – 607-437-6332
Alpaca Products, Yarn rolling, hats, scarves, mittens, gloves, socks, rugs & honey.
gbreeze@oecblue.com
Goatchard Farms
(Accepts SNAP, FCC and FMNP)
Vernon, NY – 315-335-9635
Goatmilk soap, lotions, bees wax products, hops, honey, honey straws, organic
vegetables, lip balms, eggs, mushrooms, popcorn seed, gen corn
tgeer2@yahoo.com
Grandma & Grandpa's Kettle Corn & Lemon Blizzard's Affair
Liverpool, NY – 315-380-6122
Kettle corn, lemonade and waffles with fruit & ice creamrbobandanna@aol.com
The Grapevine Restaurant
(Chamber Member)
New Hartford, NY – 315-725-1579
Gyros, grape leaves and wraps
Gypsy Girl Pizza
Sherrill, NY – 315-751-9247
On-site wood fired pizza
gourmetgypsygirl@gmail.com
Heidelberg Bread
Herkimer, NY – 315-866-0999
Pies, pastries, cookies, baguettes, specialty flavored breads and rolls
heidelbergcafe@mail.com
Hidden Hearts Honey
(Accepts SNAP and FCC)
Syracuse, NY – 315-396-9386
Honey, honey products, beeswax candles, beeswax wrapping cloth, lip balms
hiddenheartshoney@gmail.com
Hunka Foods
Baldwinsville, NY – 315-400-2650
Specialty baked goods: gluten free, dairy free, vegan, paleo, cookies, bars, cake, cupcakes, muffins, brownies, etc.
suzanthony@hunkafoods.com
Impressions by Linda
Clayville, NY – 315-725-0818
Photography & decoratively framed inspirational sayings; water colored & photo
Cards
Labraham26@aol.com
In the Fold Apparel
Whitesboro, NY
e dyed clothing and accessories
info@inthefoldapp.com
Jakes Bakes
Clinton, NY – 315-527-9618
Wheat free dog treats
marylisa.nolan@yahoo.com

Jones Family Farm
(Accepts SNAP and FCC)
Herkimer, NY – 315-867-7646
Cheeses: goat, sheep, cow; aged, semi-aged & fresh meats & frozen desserts
info@anotherjonesfamilyfarm.com

Kara's Lemonade/ Spring Creek Farm
Trenton Falls, NY 315-790-0969
Fresh squeezed lemonade, produce, handmade signs, cutting boards, fresh flowers
karakeeley1@gmail.com
Kid's Market, Inc.
(Accepts SNAP, FCC and FMNP)
New Hartford, NY – 315-264-8010
Homegrown fruits & vegetables, homemade baked goods and fruit breads; fall deco including pumpkins, gourds, corn stalk & potted flowers
Amy_m_benoit@yahoo.com
Kingfisher Farm
(Accepts SNAP, FCC and FMNP)
Clinton, NY – 315-790-0328
Certified organic Fruit & Vegetables . E
ggs from free-range chickens
Redwingfarm.jason@gmail.com
Kingsley Street Artisan Soaps
North Syracuse, NY – 315-480-3211
Handmade cold process soaps, shea & aloe lotion, sugar scrubs, soy blended candle, lip balms & scrubs, natural deodorant, clay & mud masks, bath bombs, natural bug spray, loofah foot scrubs, foot care products, facial creams, men's shaving products
kt1140@gmail.com
Kirkland Art Center
(Chamber Member)
Clinton, NY – 315-853-8871
Marketing and display table to showcase upcoming classes, events, programs
director@kacny.org
Kirkland NY Trails
Kirkland, NY
Marketing and display table to showcase
Kirkland Trails. Connecting multi-use trails, paths, and bike lanes in the Town of Kirkland, NY, to provide our community with safe routes for recreation and transportation.

Kirkland Town Library
(Chamber Member)
Clinton, NY – 315-853-2038
Story Time, Kids Youth Vendor
Clinton@midyork.org

Lan's Flower Farm
Clay, NY – 315-447-0644
Perennials
lff@lansflowerfarm.com
Matteson's Market
(Accepts SNAP, FCC and FMNP)
Woodagate, NY – 315-571-5600
Produce, baked goods, frozen homemade meals and stuffed breads, flower & herbsmattesonsmarket@aol.com
Michael T's
New Hartford, NY – 315-794-1434
Pasta, meatballs, greens, riggies, grilled chicken, salads & soups
mchlt65@yahoo.com
M.Y. Farm/Mizrahi Manor Granola
(Accepts SNAP and FCC)
Sherburne, NY – 607-244-5819
Handcrafted farmhouse granola (vegan and gluten free), pork, beef, chicken, eggs
robin@mmgranola.com
Napoli's Italian Bakery & Deli
Utica, NY – 315-725-1558
Tomato pies, hard crust bread, shells and dough
New York Mushroom Company (Formerly Fruit of the Fungi )
(Accepts SNAP and FCC)
Earlville, NY – 315-725-1246
Mushrooms – fresh and dried
kc@fruitofthefungi.com
Original Herkimer Cheese
(Chamber Member)
Herkimer, NY – 315-985-0212
Artisan cheese spreads and cheddar cheese products
abasloe@originalherkimercheese.com
Pickle Hill Farm
(Accepts SNAP, FCC and FMNP)
Fort Plain, NY – 518-993-3586
Fruits, vegetables, eggs

Pictures from Parkinsons
Works of art created to inspire & raise money for research for people diagnosed with Parkinson's.
tgwelp@hotmail.com
Pleasant Valley Farm & Bakery
Hubbardsville, NY – 315-264-7223
Baked goods and berries in season
pleasantvalleyfarm@ymail.com
Promised Land Farm & BBQ
Frankfort, NY – 315-286-2500
Ready to eat BBQ sandwiches, tacos, meals to go, meat sales of beef, pork & lamb
pldfarm@aol.com
Quarry Brook Farms
(Accepts SNAP and FCC)
Sherburne, NY – 607-423-6098
Certified Organic: Grass Fed Beef. Grass Fed Lamb. Pastured, No-Soy Pork, Poultry
and Eggs. Organic seasonal produce.
adam@quarrybrookfarms.com
Redmond's Red Deer Farm
(Accepts SNAP and FCC)
Holland Patent, NY – 315-865-8670
Farm – raised red deer venison – frozen, cuts & snack products; antler dog chews – treats; antler ling – pens, earrings, necklaces, keyrings
redmondsdeer@gmail.com
Rella's Orginals
(Accepts SNAP)
Whitesboro, NY – 315-292-4188
Italian marinara sauce and spice riggie sauce
info@rellasoriginals.com
Riedi's Handcrafted Gifts & Jewelry
Sherburne, NY – 607-316-6443
100% handcrafted jewelry, artwork & wooden items
cried@yahoo.com
Rosemary's Thyme
New Hartford, NY – 315-797-8988
Herb plants, topiaries, bonsai, fresh wreaths, bouquets
rosethyme@yahoo.com
Shaw's Maple Products
(Chamber Member, SNAP & FCC)
Clinton, NY – 315-725-0547
Maple syrup & all maple related products and maple cotton
info@shawsmapleproducts.com
Silky Squares and Bombs NY
Clinton, NY – 315-542-8954
Handcrafted olive oil soaps, lotions, wooden soap decks, essential oils
Jmrw23@gmail.com
Slate Creek Farm
(Accepts SNAP and FCC)
Barneveld, NY – 315-334-3582
Eggs, poultry, lamb, beef, pork & duck. Sunflowers
slatecreekhens@gmail.com
Sonoka County
West Edmeston, NY – 516-510-1184
Farmhouse style inspired furniture & home decor items – built out of reclaimed wood.
sonoka@sonokacounty.com
So Sweet Candy Cafe
Utica, NY – 315-272-9953
Fudge, candy and baked goods
sscandycafe@gmail.com
Soul Bowl (Chamber Member)
Clinton, NY – 315-853-2695
açaí and pitaya bowls
Stone Presbyterian Church/Fair Trade Shop (Chamber Member)
Clinton, NY
Handmade arts & crafts, coffee, tea, hot chocolate, candy, clothing, gift items
Susie's Soft Touch
Clinton, NY – 315-725-8216
Handmade knitted baby blankets, organic soap, sachets, pine soap planks, organic morning oils and facial masks
susiessofttouch@roadrunner.com
Tug Hill Artisan Roaster* (Chamber Member)
Castorland, NY – 307-216-0466
Whole bean or ground coffee in 10oz bags.
tughillartroast@gmail.com
Utica Bagels*
Utica, NY
Bagels
hello@uticabagels.com
Utica Bread
(Chamber member – Accepts SNAP & FCC)
Utica, NY – 315-624-BAKE
Bread & pastry, baguette, multigrain, ciabatta, rye, raisin walnut, crossaint, pretzel
info@uticabread.com
Waggley Wear
Lowville, NY – 315-771-2081
Children's clothing, aprons for all ages, bibs-burp clothes, blankets for babies, fleece blankets, pillows and scarves
joycewoodcock@frontier.com
Weekend Creations
(Accepts SNAP)
Clinton, NY – 315-853-5949
Handmade stuffed animals, fabric gift bags, photo greeting cards, candles, honey
mrpalmer@twcny.rr.com
Willson's Nursery
(Chamber Members, Accepts SNAP)
Waterville, NY – 315-841-8285
Plants, annuals, shrubs, trees, hanging baskets
willsonsnursery@gmail.com
Woodhaven Market
Rome, NY – 315-617-2438
Handmade wooden craft products: such as wooden shelves, small wooden boxes, mason jars, small wooden signs, decorated small wooden blocks
woodhavenmarket@gmail.com
Wormont Woolies CSA* (Accepts SNAP, FCC and FMNP)
Cassville, NY – 315-725-1716
Pastured meats: Chicken, lamb, beef & pork. Free ranged eggs, fruits and vegetables, fruit jams & jellies
wormontwooliescsa@gmail.com
Zach Lewis Photography*
Clinton, NY – 315-404-8657
Photography Products: local prints, framed prints, greeting cards, keychains, postcards, photo puzzles and magnets
zachlewis365@gmail.com
*NEW 2019 VENDOR
---
Entertainment at the Clinton Farmers Market
Experience the Clinton Farmers Market while listening to music from local musicians who donate their time to entertain market goers. The type of music will change from week to week and can be a solo act or an entire band of music makers. Other forms of entertainment welcomed.
While the musicians are thrilled to share their talents, they do count on your tips to offset their travel expenses. Please be generous in showing your appreciation by tipping them when you have the opportunity. Your support can encourage our musicians to return next year and other performers to consider including our market in their summer circuit.
Dusty Elmer

Kevin Wayne

Cait Devin
If you are an entertainer looking to join us at the market, please click here to submit a registration form.
---
Performer Application Information
The Clinton Farmers Market is looking for buskers to perform in our market this summer. Join a community who appreciates both good food and good music!
WHEN – Thursday from June 6 through October 3 for 1 to 1 1/2 hour timeslots from 10 am – 4 pm.
WHAT WE ARE LOOKING FOR – acoustic solo performers or small groups (instrumental, vocal or a combination) to engage and entertain customers and visitors at the Market. Blues, jazz, pop, bluegrass, folk, country, or Americana – any style that sounds great in an open air market where you and our family customers are having fun.
OUR COMMITMENT – a prime, central location in the Farmers Market, promotion on all Clinton Chamber of Commerce social media pages and website plus any other publicity or news story undertaken by the Market. You keep all tips (and proceeds from any product).
If you are an entertainer looking to join us at the market, please click here to submit a registration form. Questions? Email info@clintonnychamber.org.