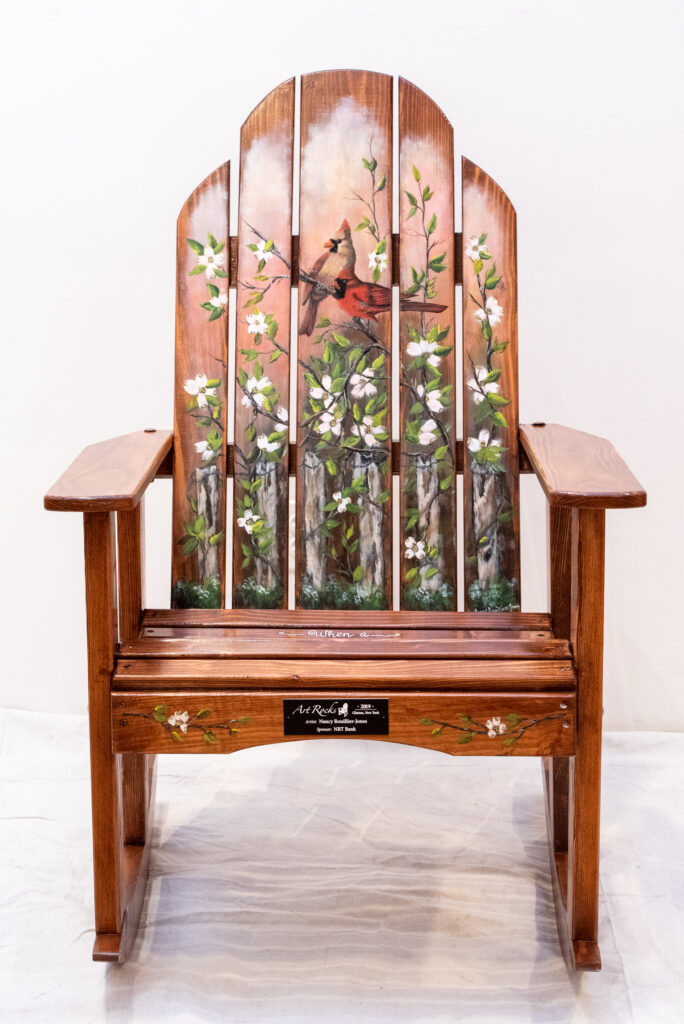 Art Rocks returns to Clinton this summer!
The Clinton Chamber of Commerce is proud to announce the return of Art Rocks for 2023.  This popular fundraiser for the Chamber highlights some of the regions' most creative artists with custom Adirondack rocking chairs as their canvas. 
We are kicking off the event on June 23rd with a reveal of the new chairs and sponsors!
The Art Rocks reveal includes your sponsored chair being delivered to your sponsor location.  Each chair includes a weatherproof sign with the artist and sponsor profile.  The Chamber promotes the Art Rocks sponsor locations in addition to the "Art Rocks Stroll" that the community enjoys walking and observing this unique outdoor gallery.
Throughout the summer, online bids are accepted for the chairs on the Clinton Chamber website. The event concludes with the Art Rocks LIVE Auction that takes place at the Clinton Art & Music Festival on Saturday, August 26th at 4:30 pm.  
All the chairs will be displayed at the Art and Music Festival on Saturday, August 26th.
Thank you for your sponsorship of this great community event!
---
2023 Art Rocks Program – Event Dates
| | | |
| --- | --- | --- |
| | | |
| Event Kick-off online, Chairs out to sponsors | Chairs displayed at sponsors in Clinton. Online auction ends on Friday, August 25th at 6:00 pm. | LIVE Auction at 4:30 pm on Saturday, Augsust 26th at the Clinton Art & Music Festival |
---
Art Rocks – Sponsorship Overview
Be a part of the Art Rocks experience! As a sponsor, your business or organization can be an official Art Rocks location featured on the marketing materials for Art Rocks 2023.
Additionally, an engraved plaque is attached to each chair featuring the Artist and Sponsor information.
Please make checks payable to Clinton Chamber of Commerce and mail it to PO Box 142, Clinton, NY 13323. For more information on this event, please contact event chair John Costanzo at 315-982-3614 or john.costanzo@proforma.com.